An IT Managed Service Provider (MSP) provides, among other things, outsourced server monitoring and various IT maintenance services for businesses. There are a number of ways a managed service provider can protect current operations and planned future growth of a business.
There are several names for this category of IT service. Managed IT services can be referred to as:
Managed Service Arrangements (MSAs)
Managed Service Provider Arrangements
Managed Service Provider Contracts
Managed Service Providers (MSPs)
These terms refer to outsourcing the management and maintenance of a company's business technology to an organization better equipped to handle the complex and constantly evolving business system requirements.
What Are Managed Services?
Successful businesses utilize technology to compete by maximizing efficiency. For this reason, companies rely on IT more than ever, and the costs to maintain an in-house IT team keep increasing. For many small and medium sized businesses, this often means sacrificing the quantity or quality of computer system maintenance in an effort to conserve capital.
Managed IT services allow you to outsource maintenance, support and repairs to experienced experts in a variety of ways.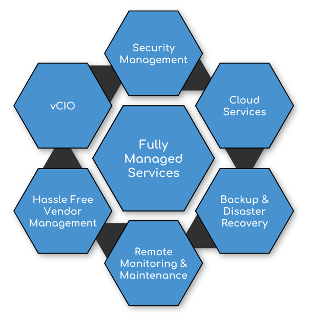 Sobering IT Statistics
Over 70% of businesses fail cybersecurity readiness tests.
60% of small businesses close within 6 months of a significant cyberattack.
Over 130,000 hard drives in America fail every week.
How can working with an MSP benefit my company?
Through an MSP, complex IT system management can be provided by experienced, trained, certified and knowledgeable technicians. It is very challenging for small and medium sized companies to ensure that their in-house tech team has received appropriate training and certification for all the various software utilized by the organization.
An MSP can be used instead of investing significant capital in an in-house IT department. MSPs are well suited for organizations needing more robust technological solutions. Properly vetted and managed technology, promotes security, enhances efficiency and generates powerful competitive business insight.
Your computer system contains most of your business-critical information. As one of your most valuable assets, your network and devices deserve prioritized attention.
Some organizations think the only option for systems and network management is delegating that responsibility to the in-house IT team. A better alternative exists. Managed IT services provide expert support and service so your employees can focus on what they do best. Providing a distinct competitive advantages along with the cost efficiencies that can result, make managed IT services a smart solution for companies of all sizes.
A properly constructed Managed Services arrangement can make your:
network safer
employees more efficient, and
evenings more restful.
And should a catastrophic "Business Shuttering Event (BSE)" event occur, an MSP may save your company from going under.
PROACTIVE VS. REACTIVE IT APPROACHES
Organizations that don't use an MSP often rely on a break-it/fix-it model. This means they wait until a problem develops before fixing them - like putting oil in your car after the engine starts smoking. This approach can lead to unexpected server downtime, security breaches, and business halting system failures. Relying on break-it/fix it is usually more expensive in the long run.
BETTER RETURN ON INVESTMENT (ROI)
Maintaining an in-house IT solution requires significant investment to make sure all the bases are covered.
When using an MSP, you typically pay one monthly service fee to manage the IT needs of your company. This allows you to scale your business and only utilize the tools and services you need at any given time. However, the cost-saving benefits don't end here. An MSP manages your company's IT needs 24/7 365 days a year, significantly reducing downtime and service interruptions that are usually experienced when using a break/fix model. This allows your company to increase productivity and overall output.
SCALABLE SOFTWARE & HARDWARE
Instead of recommending new software and hardware solutions without conducting a proper assessment, the best MSPs employ a consultative approach to technology implementation. Through proactively auditing your organizational needs, MSPs can identify cost competitive enterprise solutions which fit your objectives. MSPs have the experience to ensure your company has the tools in place to scale as needed.
REGULARLY SCHEDULED MAINTENANCE
MSPs maintain a proactive approach to IT service versus traditional break-it/fix-it methods. This approach to updating systems is very beneficial when it comes to reducing downtime and ensuring your technology is utilizing the latest updates and patches.
24-HOUR MONITORING
With an MSP, your organization gets around the clock monitoring and support for your critical applications and hardware. If the system goes down in the middle of the night, your MSP team is on it before the sun comes up.
ENHANCED SECURITY
One of the greatest advantages an MSP affords you is focused commitment on the overall security of your software and devices. Best Practice MSPs are in tune with the latest cybersecurity risks and are ready to deploy the most recent security measures to protect your business systems and data.
CO-MANAGED SERVICES
If you already have an internal IT staff, your organization may be a candidate for co-managed IT services. Under a co-managed arrangement, your tech team works alongside ours. When circumstances get crazy, we can help your team shoulder the load – steering them clear of burnout.
ABOUT Unite IT
Local, knowledgeable technicians available to respond rapidly onsite or assist your business remotely with hardware, software, networking, wireless or security needs.


Unite IT employs State of the art, integrated ticketing, security, remote monitoring and maintenance systems.


Our knowledgeable team of IT experts, coupled with a broad array of partnerships with other software and hardware companies around the globe, allow for an efficient, secure, and cost-effective solution, customized for each customer.

Get a Quote: Our Competitive Rates are designed to meet every IT budget.
Unite Information Technology Services, LLC (Unite IT)
Call: 888-748-8248
Email: Solutions@Unite-IT.com