MSPs, like Unite IT, that follow Best Practices are positioned to help your business in the following ways:
PROACTIVE SUPPORT
IT support should be delivered on a proactive basis to enhance operations and reduce expenses. Your MSP should be able to identify and eliminate issues before they turn into work profit diminishing problems.
PARTNERING FOR SUCCESS
You want an MSP that is a true partner. One that is reliable, is invested in the success of your organization.
PROMOTING COMPANY GROWTH
One of their areas of focus should be enabling the growth of your company.
Adding updated systems and more advanced business technology can help companies to manage productivity and scale efficiently. An MSP can help an organization ensure its technology is healthy over the long term and is in capable of driving positive return on investment.
PLANNING FOR SURVIVAL
In spite of any measures taken to keep your organization's systems technology running, natural disasters, ransomware attacks, and other catastrophic events can bring your system and business operations to a standstill. At these times, proactive planning and preparation is key to getting your systems running again and recovering lost data.
PREPARED FOR BATTLE
If your business falls under cyber-attack, your Managed IT Services partner is already on the front lines to fight for you. They know the details of your operation and where your defenses may be breached. Having a dedicated team of IT defenders increase your chances of defeating the attack before it cripples critical systems.
MSPs run regular system backups so your business-critical systems and data can be recovered quickly. Disaster recovery planning is a critical piece of business survivability, and MSPs have the tools you need to plan for these events.
PRICED COMPETITIVELY
An advantage of a managed services agreement is Predictable Monthly IT Cost. A managed services agreement is much easier to budget for than surprise IT emergencies that require significant financial outlay to get things running again. Cost for services depend on the number of chairs (people/computers) and the scope of services being provided.
PREPPING FOR CYBER SECURITY INSURANCE REQUIREMENTS
The cost of cyber insurance has increased dramatically. As a result, cyber insurance carriers have tightened their requirements. In order to meet their expectations, having your IT system audited and appropriately updated is essential.
There's no way to protect a successful business without a comprehensive cybersecurity solution in place. Your MSP should emphasize cyber security protocols. MSPs have the IT experience to roll out the latest cutting-edge security measures to protect your company data. This approach allows companies to focus on their core profit generating services.
PROVIDING 24/7/365 SUPPORT
Your Managed Services Team can provide daily support, reducing challenges that interrupt your workflow.
PLANNING FOR EASY TRANSITION
You should meet first with the MSP to help them better understand your business. After that, they should customize a service strategy that accommodates your specific needs and company budget. Technology Transitions can be difficult, but they don't have to be. Unite IT's transition strategies make the process trouble-free for your employees and your organization. You will most likely want to maintain some of the systems already in place while taking steps forward to enhance the capabilities of your IT infrastructure.
PRIORITY OF FOCUS
Our team can handle the technology details so your employees can stay focused supporting your customers.
PROPERLY PACED
Unite IT can handle the needs of your tech system environment at your pace.
PEACE OF MIND
Sleep is not underrated! We help address the issues that keep you awake at night. Know that you have implemented best practices to properly protect the future of your organization.
WHY UNITE IT?
Unite IT has the MSP experience to handle your IT challenges. Knowing that we have your back affords you valuable peace of mind.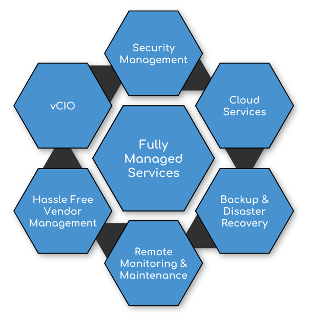 SUPPORT THAT NEVER SLEEPS
Outages and cyber-attacks can happen at any time. That's why it's important that you have the security measures of Unite IT in place to counter system breaches. With a dedicated support team that monitors systems 24 hours a day, Unite IT gives you peace of mind knowing you have defensive measures in place. Our state-of-the-art cybersecurity protects your business from the onslaught of malware that plagues businesses like yours every day.